2017 News
Elvin will be sailing down the Thames on Good Friday 14th April to circumnavigate Great Britain including Channel Isles, Scilly Isles, Isle of Mann, Nothern Ireland, Hebrides, Orkneys, Lindisfarne then back up the Thames by 1st week in September.
2016 News
Elvin was in Dunkirk for some of the Summer filming in Christopher Nolan's new film "Dunkirk" see if you can spot her when it is released July 2017.
2015 News
Dunkirk return 2015
2014 News
Dunkirk Little Ships annual commemorative cruise and visit to Oostende voor Anker 2014
This year's commemorative cruise was to Chatham and some twenty Little ships took part, amongst these were "Elvin", owned by Hywel & Jane Perkins, and "Tom Tit" owned by Trevor & Alison Phillips.
On Friday 25th May "Elvin" crewed by Hywel and Jane together with Alex and Kate Oxley and Tony Woollard, met up with "Tom Tit" with Trevor & Alison, George & Chris Bell, Malcolm O'Connor and Derek May just below Molesey lock and proceeded down river en route for Chatham. Just beyond Greenwich they caught up with several of the other Dunkirk Little ships and finished the journey in convoy with them.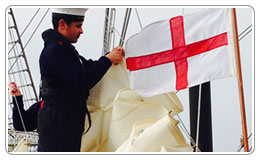 There was an enthusiastic welcome at Chatham, and the visit of the Dunkirk Little Ships coincided with the Chatham Maritime Food & Drink Festival and this saw a large number of visitors who had the opportunity to see the 20 or more ships that had travelled to Chatham.
The trip round to Ramsgate on the Monday was to prove challenging for the smaller boats, "Chalmondesleigh" ( "Chumley"), once owned by Tommy Trinder, having a particularly difficult time owing to a brisk northerly wind causing quite a swell along the north Kent coast.
The strong winds meant that the crossing to Ostend had to be delayed for two days.Elvin met up with Angus Buchanan on TS Royalist.See Below.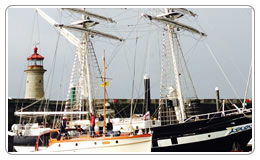 An early start on the Thursday for the trip across the channel which was fortunately incident free and blessed with fair winds. The convoy of, at this stage 13 boats, did have to avoid a couple of large ships in the shipping lanes, but nothing dramatic.
We arrived in Ostend late afternoon of the opening day of the festival and were greeted by a large number of spectators lining the walls of the entrance dock. The festival this year was celebrating the 70th anniversary of the liberation of Ostend at the end of the 2nd world war
Oostende voor Anker is a festival for older boats, none newer than 40 years old, or for new boats built in traditional style. Around 150 boats attended and the organisors were expecting 400,000 spectators over the four day event.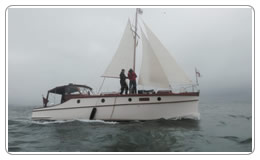 We left Ostend on the Sunday and, once again, a large crowd lined the dock to see us on our way, enroute for Nieuport yacht club who had invited the fleet to dine there.
With fine weather and a good breeze Hywel, crewed now by John and Dorothy Heath, took the opportunity to hoist the sails on "Elvin".
An early start on the Monday for "Tom Tit" and "Elvin" who were journeying westward to Eastbourne, the rest of the fleet departed an hour later for their crossing back to Ramsgate.
The weather was fair with light winds at first but as the day wore on the conditions deteriorated and the sea became rougher. 13 hours after leaving Nieuport we were tied up in Eastbourne, tired but well.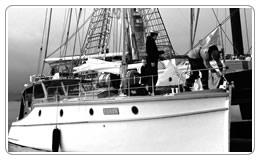 Tuesday was the last stage of the first leg of this journey, with a trip to Chichester harbour destined for the harbormasters pontoon, just off Itchenor sailing club.
"Elvin" and "Tom Tit" are travelling down to Plymouth for the classic boat rally being held from 25th to 28th July and intend to visit Salcombe for the Merlin week on their way down to Plymouth.
One of the highlights of the trip for Elvin was meeting up with Angus Buchanan who was a cadet on TS Royalist and the great grandson of Archie Buchanan who had gone to Dunkirk on Elvin.He had never seen her before and they were able to take him out for a sail on Elvin and had a very warm welcome from the crew of Royalist.
Thu 7th June - On Thursday 7th June Elvin stayed at Itchenor till Wed 11th June when ISC kindly entertained members from Hampton SC for a evenings racing in their "X OD's".
We stayed overnight at the clubhouse then Graham Penwarden and I in company with Tom Tit sailed to Lymington where we left Elvin for 2 weeks on Dan Brown pontoon prior to a journey (crewed by Morgan & AJ)again with Tom Tit and now also Miss Hardy with the O'Conners to the river Dart via Weymouth and Brixham.
We were joined by Jane to cruise up the Dart to Totnes and then to Salcombe where we stayed to race in Merlin-Rocket week.Then to Plymouth where we left her for 2 weeks before participating in the Plymouth Maritime Festival and racing Ian Gilbert's yawl Ripple in the Gaffers race.AJ Oxley and I then took her back to Salcombe where she stayed whilst I raced my yawl in the Salcombe YC regatta week.
THE ELVIN CHALLENGE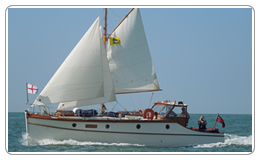 On Thursday 7th August there were warnings of very windy weather coming with the arrival of what was left of hurricane "Bertha".I decided to get Elvin on her way home before it came so we left Salcombe in the very early hours of Fri 8th Aug with a good NW'ly to help us,under full sail with both engines (Not revving much) and making 9 knots +.Crew me,Hywel and Colin Goodwin.We made extremely good progress and set course from Salcombe to Beachy Head.Dawn broke 12 miles off Portland Bill and by evening we decided to put into Eastbourne and top up the fuel and pick up son Tom as an extra crew.
We were in and out through the lock and fuelled in half an hour and heading for Ramsgate where we could put in if the weather was too bad.At 23.20 we were abeam Dungeness wind about force 5.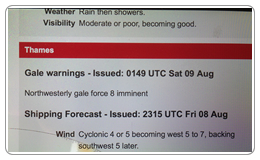 As we rounded Dover we first took in the staysail,then the jib and finally the main.As we approached Ramsgate at 03.30 going well into force 5 NW.As we approached N Foreland wind increased significantly,set course to go East of Margate sands .Wind and rain increased++.Just after we had turned to port to head towards Prince's channel there was a call from Dover coastguard on channel 16 with an urgent gale warning "Gale force 8 in the N Foreland area imminent".
This had been issued 2 hours earlier and we we in the middle of it. Elvin was fine making good progress at 2500rpm on both engines.Took a lot of water over the bows and front hatch leaked a bit. Colin thrown out of bunk onto the floor.
06.15 at Red Sands Towers and wind decreased to about force 6 and making good time at 2600rpm,hoised main and jib.
0700 Sea reach bouy No2,tide just turning in our favour.
09.30 Under QE2 Bridge making 10 kts +
11.40 Under London Bridge,322 nautical miles in less than 35 hours!! Average speed over the ground just over 9 kts including stop for fuel and force 8 gale.
15.25 Tied up at Hampton sailing club.

There is now a "Framed challenge" at both Salcombe YC and Thames Motor YC for any other boat to get from Salcombe to the non tidal Thames the next day,or the other way round.
6th Sept - Veteran's cruise with Tony Woollard skipper,Linda Spence crew left down river from TMYC.

Vets John Campbell Jones Korea veteran aircraft carrier Warrier and Valerie his wife,bronze medal Olympics 1952

Cyril Luger Korea,W Africa and elsewhere and his wife Margaret

Jim Sail Korea 1953, also rating A B Ballesteros HMS Collingwood

7th Sept - Veteran's cruise ,crew Hywel,Jane & Tony,upriver from TMYC to Walton.

Arthur Taylor & wife Ann,RAF taken off E Mole Dunkirk on fishing trawler "Lord Grey"

Bill Bridge RN,John & Elizabeth Neville,Capt John Holloway RN ,capt sea cadets.

Rating Kerry Armstrong HMS Collingwood.

Wed 10th Sept - Sept Hampton to St Katherine's dock for Thames festival,Tony,Hywel.Jane. Stayed till Sun 14th,showed Elvin to loads of visitors. Joined by Jo & Bob Moore & Phill Dutton to take her back to Hampton.
Wed 17th Sept - Surrey Ultrasound away day on Elvin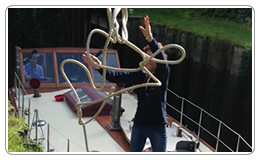 Wed 1st Oct - Left Hampton heading for Woolhampton on Kennet & Avon canal in glorious sunshine,canopy down all day,crew Hywel & Jane,Liz & Cliff Synan. Tied up just downstream Windsor bridge, Jane bought yet another gillet from crew! Saw Alan Ayckbourn's play "Table Manners".

Thurs 2nd Oct - Another glorious day with canopy down.Left 10am arrive Sonning 17.30.Whilst slowly passing Bray marina,elderly man on his large plastic boat got up and quietly stood to attention and saluted to acknowledge the passing of Dunkirk Little Ship Elvin,very moving.Stayed overnight at the Bull Inn pub,very good.

Fri 3rd Oct - Indian summer continues and canopy down again,left 8.30 but had to go back as Liz had left her phone behind & Jane had left the map of the K&A canal! Left again at 10.15 having been advised by a "Know it all" that Elvin would never get up the K&A canal!Start up the canal no problem,just before "High bridge" (The lowest bridge we came across) have to press a button on North bank to engage traffic light system to turn it green so you can move up to county lock.
Had to remove coach roof to get under High bridge but enough clearance to leave all the windows up.Left it off all day as such good weather.This had been the driest summer for many,many years so flow in the river and ? level a little lower than normal.Saw very little other traffic.

Tied up below Woolhampton lock at 17.30.Liz& Cliff stayed ashore with their daughter Angharad at her home in Woolhampton.Very good meal at the Row Barge pub by the side of the canal.(13 locks and 6 swing bridges on K&A before Woolhampton).

Sat 4th Oct - Angharad joined us for the trip down river.Left early ay 7.35 am so we could get as far down the Thames as we could.Noticed going down that canal level a little shallower when you come alongside above the locks to drop off crew,just touched bottom on 3 occasions.To go through the turf sided lock it's a help to have a crew of 4.Took roof off again for High Bridge at Reading but river level was actually lower and we could have just got under with it on.
We planned at staying overnight at the Bounty pub at Cookham but did not stop as it was closed.Pressed on down Cliveden reach in the dark by the light of the full moon,through Boulter's lock and tied up at the Boulter's Lock Hotel pontoon overnight and had a very good meal there.( Did 22 locks and 6 swing bridges with only 2 locks having keepers to help).
Sun 5th Oct - Left Boulters at 9.30am Tied up Platt's Eyot Hampton 15.30,very good trip indeed.Last proper outing of the year.

2013 News
May - June 2013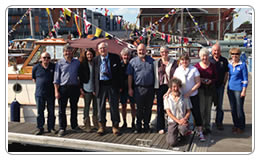 Crew Alex & Kate Oxley,Tony Woollard,with Jane & I trip up East Coast with Dunkirk Little Ships to a very good Marine Festival in Ipswitch. Met Buchanan family (see "Elvins Story").
Trip back to Tollesbury, Bradwell and Burham on Crouch to Chatham. Then 2 days of filming with ITV and Adrian Edmonson for TV program "Ade at Sea" which went out on ITV at 8.30pm on 27th March 2014, crew son Hywel, Jane & I.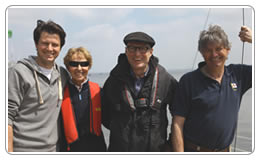 Circumnavigated Isle of Sheppey, did Whitstable Shivering Sands Forts, Queenborough and the new port "Thames Gateway" at Stanford Le Hope.
In early July attended Rochester Maritime Festival with a number of Little Ships.Crew,myself,Tony and John & Dorothy Heath.Very well organised by Kelly Tolhurst from Beacon boatyard.
Sep - Dec 2013
Early Sept attended veterans cruise from Thames Motor YC on the Saturday with Falklands veterans on board & on Sunday with Dunkirk veterans.
Mid Sept attended the Mayors Thames Festival at St Katherine's docks by Tower Bridge. Lots of visitors from the general public.
Early Oct Left Hampton for Limehouse with a plan to have a meal at the Grapes with 3 friends & their wives who had trained at Guy's with me. Crew Jane & I plus Dave Evans,Chris & Martine Mackenzie and Edward & MaryAnn Bray.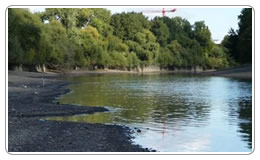 As we called up at London Bridge we were informed that the Thames Barrier was closing at low water at 2.30 am for repairs and would stay shut for maybe about 24 hrs so we would not be able to lock out the following day! Turned back to overnight at Imperial Warf and still had good meal at the Grapes, Jane & I stayed aboard & the crew boarded at the Convent of St Katherine's at Limehouse and joined us at 10.30 next morning to head back upstream.Very little water in the river. As we proceeded level continued to fall considerably, you could have played a cricket match on the sandbank opposite Fulham FC's ground at Craven Cottage.
As we got to Kew Bridge we only had 1.9 ft in the main channel under her keel.(See picture of Garmin).By the time we got to Syon Reach the river was completely impassable so anchored off entrance to Grand Union canal at Brentford. By 2pm well aground and you could walk across the river Thames in no more than about 2ft 6" of water! Nice rowing support boat took off crew leaving just Jane & I aboard. By 3.30pm river level rising and afloat again and continued through Richmond ½ tide lock back to Hampton.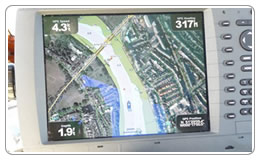 Late Oct 2013, very exciting, Jane & I took Elvin up to Shepperton to meet up with Graham & Bruce Scott and their lovely families. Their father Matthew Scott had bought Elvin in West Mersea in 1950 and brought her round the coast and up the Thames to Penton Hook lock. He and his wife and their 3 children lived on Elvin for 3 years, first at Penton Hook then at Old Windsor and the children all went to school from her.
It was the first time any of them had seen Elvin since the family sold her.We went upstream then all had lunch at the Bridge Hotel by Chertsey bridge.
Winter 2013/14 Lots of floods. Elvin fine on her mooring at Platt'sEyot but many thanks to Tony Woollard from Otter Marine for keeping watch on her.

2012 News
Elvin takes part in Jubilee Pageant practice and is on ITV news - Click here to see the video!
Elvin has now been accepted for inclusion in the National Register of Historic Vessels of the United Kingdom! Click here to see the certificate.
Saturday 14th April

First proper trip of the year heading for Imperial Wharf at Chelsea for practice with "Recreational Vessels" prior to the Diamond Jubilee Pageant.
Left Hampton with Jane and crew of Alex and Kate Oxley, went through Richmond half tide lock at nearly low water, but ok for ongoing journey downstream as right on neaps.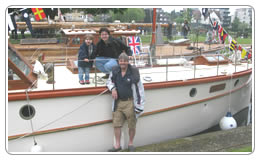 Tied up for the first time at Imperial Wharf and were made very welcome. Explored auction houses on Lots Rd – I found a lovely antique "campaign style" coffee table with inset backgammon and inlaid chess board which we later bought for little money at auction.
Very good meal at "Chutney Mary's" on the Kings Rd, then we met Nigel Bowker at Lots Rd pub and he stayed the night on board with us. He will be navigator on Tim Leech's old tug "The Kennet" on the Jubilee Pageant.
Sunday 15th April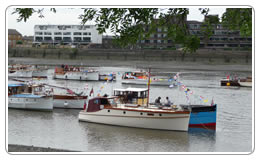 Briefing at 9.00am and joined by Greg McLeish from Little Ship New Britannia, Jonathan Hunt from Little Ship Ferry Nymph and Mike Hoffman from Little Ship Fedalma II. Then with about 40 other boats we head upstream to Barn Elms where we line up 4 abreast for practice downriver, including emergency stop. Then back up river for tea at Hampton Sailing Club. Again via half tide lock at Richmond at low water neaps.
May 2012
In May, Elvin went into Tony Woollard's shed at Otter Marina for a new paint job and anti-fouling prior to the Queen's Diamond Jubilee Pageant.
The Queen's Diamond Jubilee Pageant
Thursday 31st May
Hywel, Jane and Tony take Elvin from Platt's Eyot to mooring above Teddington lock. Drinks that evening at Tide End Cottage pub. Hywel spends night aboard. Plenty of Dunkirk and historic vessels moored with us.
Friday 1st June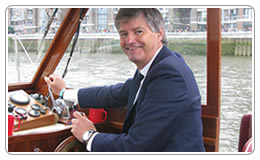 Waited all day for scrutineering. Elvin passed no problem.
Then all the Dunkirk Little Ships move into the Barge Lock to spend the night there prior to heading downstream tomorrow.
Some historic vessels then come in behind us. I spend the night aboard again after having been taken by "Devon Belle" to Thames Motor Yacht Club for final briefing with Marquess of Salisbury .
Saturday 2nd June
Next morning, ashore for a shower at Tom and Sonia's in Field Lane, Teddington. Joined in the morning by Hywel Jr, Rachel and Hywel Flynn, and Tom and Tony Woollard. Tom, Tony, Hywel and I take Elvin downriver to our overnight mooring at Barn Elms where the PLA have laid 200 moorings from Craven Cottage up to Hammersmith Bridge. We moor fore and aft between 2 buoys next to "Cariona." We are all in formation for the pageant tomorrow.
Rachel and Hywel Flynn went back to join Jane, Gareth, Linda and Morgan to go to the Diamond Jubilee Derby at Epsom, which is the start of the Queen's celebrations.
The 4 of us take a water taxi ashore about 3.30pm (we are just upriver of Fulham's football ground at Craven Cottage towards the front of the fleet). Have a good meal ashore at an Italian restaurant in Putney High Street, then back aboard about 9.00pm.
Sunday 3rd June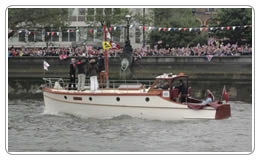 The day of the pageant!
Crew – Hywel and Jane, Hywel Jr, Rachel and Hywel Flynn, Gareth and Linda, Tom and Sonia, Morgan, Tony Woollard and Lillie Gilmartin from HMS Collingwood.
07.15 – Hywel, Hywel Jr, Tom and Tony up to make sure Elvin is shipshape and Bristol fashion ready for her pageant trip.
09.15 – Joined by the rest of our crew, weather ok to start.
Pleasant morning with breakfast, and watched all the rowing boats of all sorts of type and size come through us on their way downriver to line up in formation – over 1000 boats taking part in the pageant.
11.43 – MBT 102 leads off a fleet of 40+ Dunkirk Little Ships all 4 abreast heading slowly downriver to take our place in the pageant.
From the moment we left our mooring, both banks of the river and every single bridge was crammed full of flag waving onlookers. We saluted the crowds with our very loud horns as we went under every bridge to much cheering and flag waving. All the boys and Lillie were up on the foredeck waving for almost all the journey with the girls joining them from time to time.
From about Waterloo bridge, the rain really started, though the boys and Lillie stayed on deck to wave to the crowds.
Gareth had a great big "Union Jack" umbrella which went down well.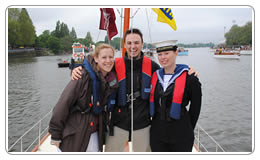 We went under Tower Bridge to huge cheers and as we passed her majesty, who took the salute from HMS President, Tony lowered our ensign on a signal from MTB 102 as all the Little Ships did this together. Lillie saluted and shortly afterwards, Gareth's umbrella turned inside out.
We then continued to West India Dock where all the little ships entered, as well as some of the historics, as the first lock whilst the rest of the fleet continued downriver to Greenwich and back whilst they waited for their turn to lock in.
That evening, we ate with Alison and Trevor Phillips, Derek and Mary May, Kevin and Maddie Anderson, George and Chris Bell and Malcolm and Marilyn O'Connor all from Little Ship Tom Tit, at Jamie Oliver's Italian Restaurant in Canary Wharf
Monday 4th June
Up for Open Air Church parade in the morning, with all the little ships. All the crew have now left us and only Tony, Jane and myself on board. Jane leaves after lunch.
That night, open air barbeque with all of the ADLS then a few drinks at "The Gun" pub overlooking the river. Very good atmosphere!
Tuesday 5th June
11.30 – Locked out of West India dock, with Tony as crew with lots of other Little Ships for a trip upriver to Hampton.
Fast trip back to Teddington. Jane brought Mum (Mrs M.L. Perkins) down to Teddington where she joined us for the trip back to Hampton.
What a truly wonderful long weekend.
Story of 2011
Started with trip downstream to Teddington on morning of New Years day then upstream for lunch with the family at 'Boaters' downstream from Kingston. Chat re plans for the year As well as June trip to Ramsgate and then across to France early June, afterwards we have a week free in mid April to see how far we can take Elvin up the Thames.
Hampton to Lechlade and back in one week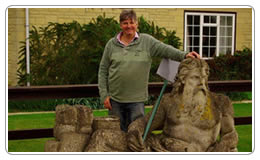 Wednesday 15th April Jane Morgan and I take Elvin upriver from Platt's Eyot to Windsor for lunch. Moor on starboard bank and Elvin just grounds. After lunch continue to Bourne End and moor overnight at Bounty for a good evening.
Thursday 16th continue upstream with breakfast at Marlow and lunch at the Angle at Henley (Starboard bank just after the Bridge). After a good lunch come back to find Elvin aground. With a rope to locals on a jetty we got off quite easily (Beware!!). continued upriver to Goring where Jane and I stayed over night at the Miller of Mansfield and Morgan stayed aboard, very good food and accommodation.
Friday 17th left Goring upriver for lunch at Abingdon with Hywel Rachel and Flynn who took Jane and Morgan home and i was joined by my old school friend Pete Davis and his wife Kaye who were over from Australia. Continued upriver to Sandford with evening meal at the Kings Arms.
Saturday 18th left early for Oxford. Once we approached Osney Bridge we have to remove mast and lower coach house roof which we can do whilst under way to lower our 'Air Draft' to six ft 10". Go under Osney Bridge 7ft 6" with no problem. Continue up river which is so wonderfully unspoilt, see almost no other traffic. After about 3 or 4 locks we meet a lock keeper who asks us what we draw, I say 3ft 5" he says that we have probably come too far already and that we will not get much above Tadpole Bridge and that we could stay overnight there and eat at the Trout pub.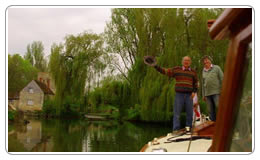 A little further up river, we meet another lock keeper, who is much more positive and says if we have a good pair of engines with a long flat keel we could try to make the very last lock on the Thames at Lechlade and as Elvin will then have been through every lock on the Thames she can have a certificate from ' Old Father Thames' via the lock keepers wife at St John's Lock at Lechlade. He says he has seen the occasional Dunkirk Little Ship above Osney Bridge but very few. We do have to plough a furrow for a short time on a few occasions but whenever we meet a lock keeper they are very welcoming and expecting us.
We make Lechlade about 5.45pm and the lock keeper is waiting for us with the certificate and 3 of the lock keepers we've met on the way have driven up to welcome us and to see if we'd made it! We then continue upriver to the Roundhouse ay Inglesham so we can say that Elvin has been up the Thames as far as she could. Moor overnight at the pub just above Lechlade bridge.
Trip Down River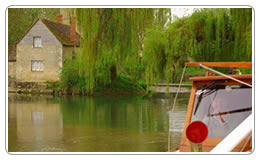 Sunday 19th April.Leave Lechlade early as we have only 3 days to get back to Hampton, fuel stop at Oxford cruisers, under Osney bridge with more confidence this time. Plan to overnight at Clifton Hamden but nowhere to moor as very shallow near bank. Instead go up behind the weirs up to the Plough at Long Wittenham, only boat there, we arrive 18:45 , a little shallow on the way up as had to plough the odd furrow. Wonderful food and good beer (we did 17 locks that day).
Sunday 20th left early again, we were a little aground but engines did their job. Kept going all day to make the bounty at Bourne End for an evening meal. This time lots of boats there, but landlord recognizes us and makes a space for us. Joined by John and Dorothy Heath and Martin Evans, good night had by all.
Monday 21st Left Bounty heading downriver. Stop at Windsor for lunch and showed Pete and Kaye the changing of the guard, with marching band. Then made good time to Hampton. Tide up 16:30.
Wey Navigation System
End of April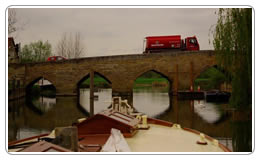 Took Elvin with Gareth, Linda, Tom, Morgan Jane and I up to Weybridge and then the Wey navigation canal to Pyrford. Met Hywel, Rachel and Flynn for lunch. On going back through Thames lock at 16.40 we met a worried lock keeper, the lock gate to the pound had been damaged and had been leaking. He could not keep the level in the pound very high. He put us in the lock but when he opened the Thames Gate, Elvin was aground. He opened all the upstream sluices fully open but still she stayed there. We got all the crew off and with locals pulling on 2 ropes either side of the bow, suddenly she lifted and with the sluices fully open behind her she shot out into the pound like a cork from a bottle. No damage and we headed for home.
Hampton to Ramsgate
May 27th – Left Platts Eyot 8:45, Tony Woollard, Phill Dutton and myself. Tied up Royal Harbour Ramsgate, alongside Raygate II at 20:30, trip took less than 12 hours.
May 28th – really windy all day,
May 29th - Wreath laying ceremony cancelled due to wind and sea. All went to Sailors Chapel instead (Standing room only, good hymns). Evening dinner ADLS at Pegwell Bay Hotel, very good , with great company, as always.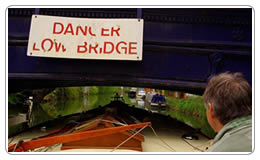 June 1st – Ramsgate to Graveslines, untied Ramsgate 08:00, tied up in marina at Gravelines 11:50am 3.50 mins. Really friendly marina, partly drying so moor on outside of pontoons. Very good Lidl at lock at marina entrance. Lovely town, some stayed at a great little hotel called Beffroi, as quite a lot of us. Jane, Hywel, Rachel, Flynn, Morgan, Selina and myself.
We were going to go up the canal system from Gravelines but due to overun in the completion of bridge work it was completely closed. So next day trip to Calais then entered canal system via Ecluse Carnot and Ecluse de la Battellerie. Phoned to arrange bridges to be opened to let us head towards St Omer but not very helpful. They seem to finish work before 5:00pm and I could not work out how to get anything done 'out of hours'. Never mind had a good meal assure. Very windy night.
June 3rd – despite the guide books saying the locks open 1.5 hours before and one hour after high water, they seem only to open if you call them and then only once about the time of high water. The forecast was not good but we had had enough of Calais and thought we would go back to Gavelines I made the mistake of not listening to Jane who on looking at the trees bending right over (whilst out shopping) told me there was a real gale blowing.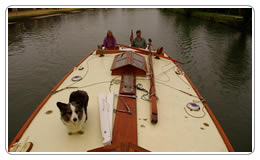 I did not have the shipping forecast and listened to Rachels iphone which we thought gave a forecast of 5 – 7. When we got out to Avant Port, the 3 red lights seemed permanently on red. I call port control to see if we could depart for Gravelines. They turned them green. Once out of Avant Port and into the channel it was obvious the seas were huge and wind, more than I expected. Port control then asked for confirmation of our destination and said they would let them know to expect us. We then got the news that they had put a temporary stop on the ferries leaving due to cross winds! It would have been foolish to turn in the large breaking, relatively shallow seas, so we headed out for deeper water. Once there it seemed just as easy to head a little further to Gravelines. I promised a meal in The Turbot Restaurant.
The crew were great but I was somewhat in the dog house for putting everyone through it.
Sat 11th June - Gravelines to London,crew Hywel,Tom B-P and Charlie Baker.After breakfast with the girls left Gravelines at 8 am and drop Charlie off in time for a pint in Boater's in Kingston before closing time (Including a fuel stop at Gillingham Marina!) Elvin is a good sea boat.
June to August - Various trips up and down the Thames including away day for Surrey Ultrasound Services.

2nd Sept - Warm welcome at Thames Motor Yacht Club for ourselves and about 13 other Little Ships for day out on the river with "Help for Heroes" and injured servicemen from Hedley Court with their families.Then BBQ in the evening.We welcome Bob,Eileen and Mandy Warmit (Rear Commodore TMYC) for the trip downriver.

3rd Sept - Vintage cruise,Hywel,Jane,Tony Woollard,Pete and Imogen Woodberry Wells.Our Dunkirk veterans were 91 year old Sydney Hasling (Royal Engineers) and his wife Alice,Harry Malpas 90 and his wife Jean.Last surviving member of Royal Warrickshires.(Captured after Dunkirk and had to undertake the Death March to Poland and then back) and Eric Rodric 93 Royal Army Service Corps.Went to Dunkirk to deliver Water & Supplies etc.(All can be seen on our very short video).

16th Sept - Hywel,Jane Maddie & Kevin Anderson to Limehouse.Good meal at the Grapes.Then next morning meet Deirdre Bell,Nicky Page and Rob & Jo Heath to escort the 2 Hampton Sailing Club crews up river during the "Great River Race" to Richmond.

11th Oct - Hampton to Limehouse again with Liz and Cliff Synan to see "The Mousetrap" and another good meal at The Grapes.Hywel and Graham Penwarden bring Elvin back a few days later.

27th Dec - All the family go downriver to the Anglers for Lunch to see the work on Tom & Sonia's house.All children+wives + Flynn,Ron & Chris,David & Sandra,Bob & Jo.Then back to Hampton ready for next year.