Thank you for visiting ElvinDunkirk.com. A website dedicated to this special motor yacht which took part in the heroic Dunkirk rescue mission in 1940. Please click on images to enlarge.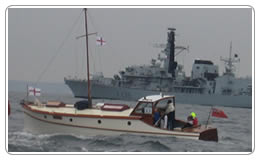 ELVIN. A 6 berth gentleman's motor yacht. Length 36ft, Beam 9ft, Draft 3ft 4" Lloyds Reg No 16565.
Registered Net Tonnage 6.75, Gross 10.54. Designed by A.H. Comben and Hyland Ltd. Built 1937 by Clapson and Sons, Barton on Humber for Hyland Cruisers. First owner Mr. E. L. Vincent.
Read about the Elvin Challenge here she took on a force 8 gale!
On the 29th May 1940...
Lieut. Commander Buchanan had been invalided out of the service when war began, but on 29th May 1940, he heard on the 9 o'clock news that the Admiralty wanted enginemen for yachts and he applied at once. Next day, he went to Robinson's yard at Oulton Broad and took charge of the engines in the estuary cruiser Elvin. Her two 25hp Highlander petrol/paraffin motors needed all his skills!
The crew, when they set out for Ramsgate, consisted of himself, "Skipper Noble" who was a retired fisherman from Aberdeen, Dirk Howorth, a Lowestoft longshoreman and Hackforth-Jones, a writer of yachting stories, who had served with Winston Churchill's battalion in the 1914-18 war. Click On 'Elvin's Dunkirk' above to read more, or on 'Links' to contact us.
Elvin was in Dunkirk for some of the Summer filming in Christopher Nolan's new film "Dunkirk" see if you can spot her when it is released July 2017.
Elvin will also be sailing down the Thames on Good Friday 14th April to circumnavigate Great Britain including Channel Isles, Scilly Isles, Isle of Mann, Nothern Ireland, Hebrides, Orkneys, Lindisfarne then back up the Thames by 1st week in September.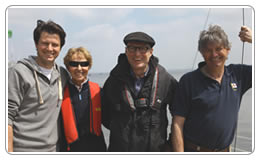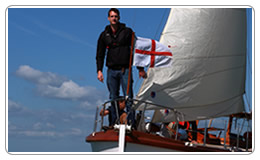 On Thurs 27 March 2014 Elvin featured in "Ade at sea" with Adrian Edmonston on ITV.
On Thurs 4th June 2015 she was featured on "The One Show" with Dan Snow, please click on link below to view - http://www.bbc.co.uk/programmes/p02sxp5k
Be sure to put a note in the diary!On
Elvin also has a blog! Visit it here